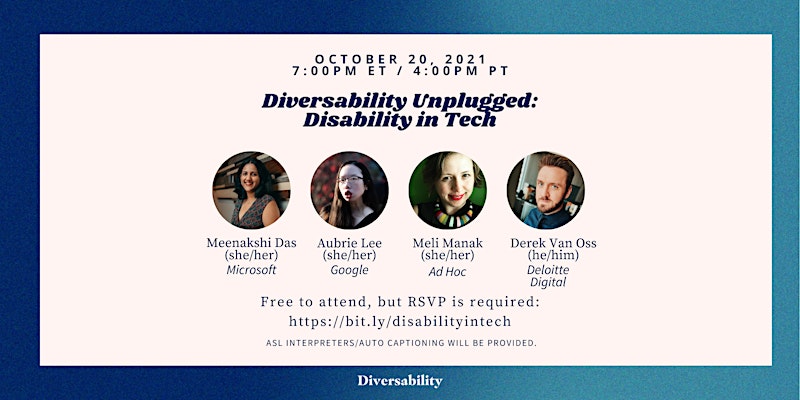 Wordy graphic with pictures that go with the bios below
Event InformatJoin us for a conversation to celebrate NDEAM month with a panel of disabled leaders in the tech industry.
October 20, 4 pm PDT, 7 pm EDT
About this event
As the ever-growing world continues to rely on technology, the need for diverse leaders in the tech industry has never been greater. With a projection of 530,000 new jobs being added to the industry by the year 2029, the technology sector has the ability to break barriers by employing people with disabilities.
In celebration of National Disability Employment Awareness Month (NDEAM), join us on Wednesday, October 20 from 7 pm - 8:30 pm ET for a powerhouse panel discussion featuring disabled leaders in the tech industry. Meli Manak from Ad Hoc, Meenakshi Das from Microsoft, Aubrie Lee from Google, and Derek Van Oss from Deloitte Digital will come together with Diversability to discuss their journeys as disabled pioneers in the industry, covering a variety of topics from ableism to how other tech companies can evolve to be more inclusive and representative of the 15% of the world's population living with a disability.
Where: A Zoom link will be emailed to you 15 mins before the event begins.
This event will also be recorded and the recording will be shared with registered attendees after the event.
Accessibility
Attendees may keep their videos off for privacy or comfort, and are free to leave at any time. All sessions will be in English and ASL interpreters will be present. We will also use Zoom's auto-captioning feature. Please email Whitney Bailey at whitney@mydiversability.com for other accessibility needs and/or questions.
--
Thanks to the support of our sponsors this event is free to attend, but RSVP through Eventbrite is required. If you're interested in sponsoring us to make more of our work accessible, reach out to us at http://mydiversability.com/collaborate.
Meet the panelists
Meli Manak (she/her)
Sr UX designer, Mobile, Ad Hoc
A product designer who focuses on mobile accessibility, Meli S. Manak works for Ad Hoc and supports mobile applications work at the Department of Veterans Affairs. Her work includes streamlining the design system, bringing design and accessibility expertise to her cross-functional team, and ensuring designs are visually accessible before development begins.
It is a career built on her lived experience. Born hearing, Meli became deaf at three years old and learned to navigate conversations through both lipreading and ASL. This led to her involvement in Gallaudet University's "Deaf Space" project, a transition into the tech industry, and eventual involvement on an award-winning app. Deafness is a central component of Meli's identity and career, and she brings a deep level of empathy to her UX work. Her mission is to continue pushing for digital accessibility to ensure that future generations with disabilities can more freely move through the world.
Follow Meli on social media:
Linkedin - https://www.linkedin.com/in/melissamanak/
Meli's website - https://www.melissamanak.com/
Meenakshi Das (she/her)
Software Engineer, Microsoft
Meenakshi 'Meena' Das is a software engineer at Microsoft. Through her writing and speaking engagements, she has shared her accessibility expertise with several individuals and organizations on making software accessible to users with disabilities. She is the founder of 'Working with Disabilities' support group for working professionals with disabilities which has over 2000+ members on social media. For her tech inclusion work, she was inducted into the National Susan M. Daniels National Disability Mentoring Hall of Fame. She is also a member of the Accessibility Leadership Committee of a non-profit organization named Disability:IN, and has been quoted by Forbes, CNET, Salon and ABC News for her views on disability inclusion in tech.
Follow Meena on social media:
Linkedin - https://www.linkedin.com/in/meena11/
Instagram-https://www.instagram.com/disabilitiesintech/
Aubrie Lee (she/her)
Brand Manager, Naming, Google
Aubrie Lee is an artist with an engineering degree from Stanford University. She's passionate about imagining the future (the art) and then making it real (the engineering). At Stanford, she became a member of the honor societies Phi Beta Kappa and Tau Beta Pi. She first started working at Google in 2013 and is now a naming brand manager and a leader of Google's Disability community. She is multiply disabled and advocates for Disability inclusion at Google, in tech, and in the world. Two of her passions are 3D modeling, so that she can illustrate anything she can imagine, and fashion modeling, to challenge how society treats Disability and beauty as opposites. You can learn more about her at aubrielee.com.
Follow Aubrie on social media:
Twitter -https://twitter.com/Aubrie_Lee
Instagram - https://www.instagram.com/aubrieality/
YouTube - https://www.youtube.com/AubrieLee
Linkedin - https://www.linkedin.com/in/aubrielee/
Derek Van Oss (he/him)
Sr. UX Designer, Deloitte Digital
Derek Van Oss was working in the days of the early 2000s dot-com boom at Verizon as a programmer/designer on their Concept and Design Team in 2002, when at just 19 years old suffered a hemorrhagic stroke due to AVM rendering him half blind in both eyes (hemianopsia). 7 months later, he then woke up from a subsequent life-saving neurosurgery with the left side of his body completely paralyzed (hemiplegic). Derek spent his 20s learning to adapt while rebuilding his independence, confidence, and career which has since led him to continue successfully working in technology for the last 20 years for companies like Amazon.com, BMW, NBC, Sony, Disney, Toyota, Lexus, Activision and more.
Despite his significant blindness, he has also had a successful parallel career in photography.
He lives in Downtown Los Angeles, CA with his 2 cats, Jack and Tooka.
Follow Derek on social media:
Linkedin- https://www.linkedin.com/in/dvanoss
Instagram -https://www.instagram.com/dvophoto/
Twitter - https://twitter.com/dvointeractive/
Organizer of Diversability Unplugged: Disability in Tech
Diversability (as featured in the Guardian and Forbes) is a social good company to rebrand disability through the power of community. We foster community online and off to connect, showcase, and empower people of all abilities doing amazing things. We want to get more people talking and thinking about disability. For more information, visit mydiversability.com